Portland, Ore.-based concrete5 released its version 8 beta for testing and feedback. It's good for site builders who are comfortable reporting and fixing bugs, and who are prepared to build their test sites from scratch. Just remember: Beta releases are never recommended for production websites.
Technology evangelist Jessica Dunbar called it "a key milestone and is the work of more than 230 contributors." To find out about the new features, see what's in store for version 8.
In the meantime, users can download concrete5 version 7.5.9, a maintenance release that improves functionality and fixes a few bugs.
Earlier last month, the team started working on a multi-site management tool. It's actively requesting help from users because it wants their "needs to drive our requirements," Dunbar explained. What kinds of things will the tool be able to do?
Manage multiple websites from a single concrete5 install
Force content updates across all or some sites in the network
Suggest content updates across all or some sites in the network
Allow for centrally and locally managed content to appear in any way
Share content between sites
Workflow and messaging for collaborating on the sites
Add or remove sites easily
Base a site on more than one site starting point
Acquia
Acquia launched of Acquia Lightning, a freely available open source Drupal distribution that helps developers accelerate Drupal 8 development, streamlines authoring for business users and content teams, and make it easy for non-technical users to manage content and experiences.
Essentially a starter kit for Drupal 8, Lightning brings together critical functionality for enterprise-scale delivery of enterprise authoring experiences for Drupal 8. Lightning is available on Acquia Cloud Free, as well as from Drupal.org, GitHub or as part of a Composer-based installer.
"Lightning solves problems that would otherwise slow the development of content-rich websites on Drupal. I like that we can now focus less on overcoming technology hurdles and more on client needs," said Jill Moraca, manager of Web Development Services in the Office of Information Technology at Princeton University, which participated in the beta trial of Acquia Lightning.
Drupal
Drupal aficionados in the US Midwest are gearing up for DrupalCorn — which we are told will be "a-maize-ing once again." It's happening Aug. 4 to 7 at the University of Iowa in Coralville, Iowa.
Of course, an even bigger event — DrupalCon — is just around the corner: DrupalCon will be held Sept. 26 to 30 in Dublin.
An international educational event that brings together the people who use, develop, design and support the Drupal platform, the event features dozens of curated sessions and panels from influencers within the Drupal community and beyond, as well as opportunities for networking, code sprints and informal conversations.
Hippo
We've already shared the biggest news from Amsterdam-based Hippo: It recently released the latest version of its web content management platform — an update a company official called a "completely re-architected platform with all benefits of the cloud." You can read all about it here.
You can also read an interesting article on Selecting a Cloud CMS Solution from Tjeerd Brenninkmeijer, CMO and co-founder of Hippo. "'The cloud' is only an umbrella term which describes a variety of service styles. Finding the one that best fits your business needs can be daunting," he noted.
Want to meet the whole Hippo team? You can next month at Hippo.Connect Boston, the annual North American user conference for the Hippo open source CMS community. Robert Rose, a senior contributing analyst with Digital Clarity Group and the author of "Managing Content Marketing," will deliver the keynote at the event, which is scheduled for Sept. 22 and 23.
Hippo is also one of the sponsors of dmexco, an international exposition and conference for the digital industry that takes place Sept. 14 and 15 in Cologne, Germany. Around 50,000 visitors and more than 950 exhibitors are expected in 2016. Attendees will participate in a program of practice-oriented presentations by international speakers, engage in discussions and gain new insights. 
As Hippo's global communications manager Varia Makagonova explained, "Welcome to the Internet of Everything: where digital is no longer a separate entity but a part of every aspect of business. How to survive? Together with our partner Satzmedia, we will be at dmexco to provide inspiration, support and orange Hippos."
Liferay
The team at Diamond Bar, Calif.-based Liferay is making final preparations for its annual Symposium, which will be held Sept. 26 and 27 in Chicago. Registration is open and the agenda is almost complete. Liferay leaders, partners and customers will deliver talks on digital disruption and strategy, analytics, omnichannel technology, integration and much more.
But that's not all. Liferay Audience Targeting 2.0 is now available and compatible with the latest version of Liferay DXP. Included among the updates for 2.0 are more customer insights to better know your audience. New user segmentation rules have been added for current language, IP address, website history and last website login date, among others. The updated app also features a fully renovated UX.
Joomla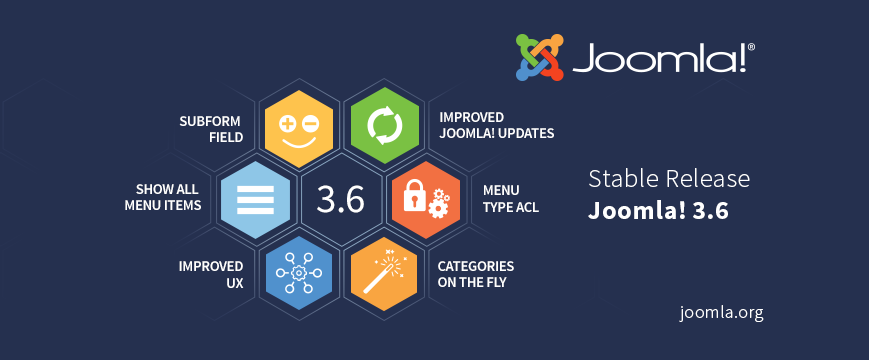 The Joomla Project and its Production Leadership Team had a busy July: They released Joomla! 3.6. As we explained, "The upgrade fixed a number of bugs, many of which, apparently, had been irritating the heck out of users."
Now the Joomla Project is calling all testers for version 3.6.1 release candidate 1. As always, this not-ready-for-primetime release is not for production sites.
WordPress
Like WordPress? Then we have news for you: WordPress.org hopes to ship WordPress 4.6 on Aug. 16.
But that depends on the help of its users: Automattic needs feedback from those testing the WordPress 4.6 Release Candidate, which was released a few weeks ago. "RC means we think we're done, but with millions of users and thousands of plugins and themes, it's possible we've missed something," Dominik Schilling, explained in a blog post. "If you haven't tested 4.6 yet, now is the time."
Think you've found a bug? Post it to the Alpha/Beta support forum. If any known issues come up, you'll be able to find them here.